Yesterday I shared about receiving crushing news concerning my son, with whom I was 14 weeks pregnant.
I can still remember it vividly, sitting in that specialist's office in the hospital with my husband on that cold January day.
Papers and files piled high on the desk, evidence of a busy schedule. Us in 2 chairs facing the door, waiting. Him walking in with the look of doom written on his face.
Immediately I was in a bubble. I could hear him, but it wasn't penetrating, wasn't registering. It was as though I was an observer and not the one he was speaking to.
Trisomy 18, cleft lip and palate, not going to live, abortion, very hard, nothing we can do, just wait.
We left there stunned.
But the one bright spot was, because of the ultrasound, we now knew our baby was a boy.
As we left that office, we knew we were about to enter the fight of our lives for our son.
Here's what we learned during that battle...
1. Focus on the Truth of God's Word and not on the facts of the situation.
Your word is a lamp for my feet, a light on my path. Psalm 119:105
I remember driving away from the hospital and praying quietly, asking Jesus for help. As we got on the ramp to the highway I was looking out the passenger's window and seeing the barren winter trees and brush on the side of the road, and it was there that I "heard" the answer inside of me.
You heard the facts, now you need to focus on the Truth.
You need to choose now what you will believe. If you believe and focus on the facts then you will receive death. But if you believe and focus on the Truth, My Truth, you will receive life. But you must choose now.
I knew then that if we didn't set our minds on the truth of God's Word immediately and let that form our words and our actions then we would surely be open to fear. I shared this with my husband, who agreed. We didn't want fear to guide our path and determine our outcome, so we chose to focus on the Word of God to guide us.
At that point we decided not to give Trisomy 18 a place in our vocabulary.
We believe words have power and we were not going to give this name power in our lives.
We decided to not look up the websites that the doctor suggested because we knew the information and pictures would fuel fear and not faith.
Don't get me wrong...we weren't ignoring the fact that we had a crisis that needed to be tended to.
Quite the opposite.
We were hitting it head on...just taking a different approach.
We knew we needed faith if we were to see victory.
2. Pray, pray, pray!
Do not be anxious about anything, but in every situation, by prayer and petition, with thanksgiving, present your requests to God. And the peace of God, which transcends all understanding, will guard your hearts and your minds in Christ Jesus. Phil. 4:6-7
We needed strength to walk this out, so we continued down the highway and went directly to our church where we received prayer from a couple of the pastors.
Over the next several months, we prayed alone, prayed together as a couple, and as a family with our other boys. And we prayed with others in the Body of Christ who believed in the power of prayer, especially if they had seen victory through it in their own lives.
Doubt fuels fear, so we learned to guard our faith and our belief for our child to be healed by surrounding ourselves with others who believed in the power of prayer.
3. Worship


Exalt the LORD our God and worship at his footstool; he is holy. Psalm 99:5



That 1st night after receiving the "news", I was praying and felt strongly to have praise and worship music playing constantly in our home daily, even at night as we slept. So our spirits, including the baby's, could be filled with the light and truth. So, that night before bed we put on some peaceful music and kept that cd player constantly filled with peaceful, uplifting music that fueled our faith and filled our spirits. The very next day a friend brought me a couple cds that she had made for me. She didn't know that we were listening to music all day and night.
But God did, and her gift was an encouragement that we were on the right path.
4.
Speak God's Word
"Have faith in God,"

Jesus answered.

"Truly I tell you, if anyone says to this mountain, 'Go, throw yourself into the sea,' and does not doubt in their heart but believes that what they say will happen, it will be done for them.

Therefore I tell you, whatever you ask for in prayer, believe that you have received it, and it will be yours. Mark 11:22-24
We were believing for LIFE, and this "mountain" of Trisomy 18 was in the way. So we found scriptures that spoke of what God said about our baby. He was created with a purpose and a destiny (Psalm 139). That no harm would come near him (
Psalm 91).
We found tons of scriptures. Instead of reading and talking about sickness. We found scriptures that spoke of life and healing. These were the things we spoke over our baby in the womb daily.
We also spoke something else over him daily.
That day we heard the "news", we came home from the specialist and our oldest son Ethan, about to turn 3, asked if he was having a brother or a sister. To his excitement we told him it was another brother.
To which he said,
His name is "Baby Safe", because Jesus is keeping him safe.
We lost it.
We hadn't yet told Ethan the doctor's words. He had no way of knowing...but for God.
This was a huge encouragement!
We continued to speak that name over our baby boy, an assurance that he was safe in Jesus' arms.
Well, that's where I'll leave off for today.
I still have 4 more things to share tomorrow as well as a few pictures of our little "miracle".
This is my testimony. I humbly submit it to you.
I hope you find it encouraging and helpful for whatever battle you may be facing.
If anything, I needed to remind myself of all that God did during this time, so that I can apply what I learned in order to confront the challenges I'm facing today.
Seeking Peace in the Midst of the Mess along with you!
Maureen
Want to continue reading? Click here for Part 2.
This post is linked up with...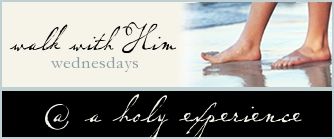 Have you missed a day in reading 31 Days of Seeking Peace in the Midst of the Mess ?
If you aren't following
Loving This Life
yet, I'd love to invite you to do so. Simply click here or go to the side bar and click on
join this site. There are also options on the side bar to subscribe to receive posts in a reader or to sign up for email to have each post delivered to you right into your inbox.
There are over 700 bloggers taking the challenge, along with me, to write about one topic for 31 days.
You can check them out here.