So, not too long ago I finished reading
"One Thousand Gifts" by Ann Voskamp
and
loved
it!
It's "a dare to live fully right where you are".
A beautifully written and thought provoking book that challenges the reader to let go of your grasp for control, to see beyond life's pain and loss to catch God in your everyday, everywhere moments. To begin to recognize His love for you by counting your gifts each day. And it's so much more than a "gratitude journal", it's an awakening to the grace of God in the everyday, a realization of His never-ending love for you by counting the little things, the gifts that we can all too often take for granted in the rush and crazy disconnecting crush of life. Ann was challenged by a friend to begin a list of 1000 gifts. That list started out as a to-do and turned into a journey that transformed her life as she discovered deep joy....even through some very hard times. The book documents that journey. Here's the book's trailer...
This book is both challenging and affirming. I underlined so much as I went along. I read and re-read to really get it in. I've grabbed it again as I've encountered tough times and battled lots of stress and fear. I really wondered, how can I give thanks for this situation? Well, in her words she writes,
"Fear thinks God is finite and fear believes that there is not going to be enough and hasn't counting one thousand gifts, endlessly counting gifts, exposed the lie at the heart of all fear?"
She discovered that jotting down gifts, things once taken for granted, revealed that God is always there, always loving, always working things for good, always to be trusted.
Reading this book made me want to embrace and enjoy my life and live it to the full...right where I am. That's why I began this blog. So thankful to Ann Voskamp for writing this life-changing book.
I began my own journey of counting gifts and looking for "kisses" from God in my everyday.
And I'm linking up with Ann Voskamp on
her blog today
to share with others who are also on the journey to 1000 gifts and beyond.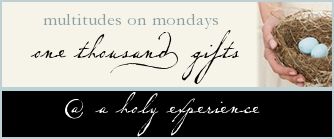 And, here's a smattering from my gift list so far....
1. "Koala baby" hugs
7. Breezes through the sheers
12. My little boys who pause during their day to kiss & hug their mommy & tell her they love her
19. A mother I just met, further ahead of me, sharing words only You knew I needed to hear
29. Great friends who care for me and rescue me during a migraine
40. Freedom
44. $ to go grocery shopping
51. Peace in the storm
64. A washer and dryer that work to clean clothes
77. The past, already dealt with can hold no pain for me today because of Your grace
79. Excited boys going to vbs
80. Being treated to dinner by a dear friend
82. Timely provision
84. Giant marshmallows
90. Boys and their legos
97. Caterpillars in the garden...a promise of a gift to come
102. Opened eyes to my own mistakes and self-centeredness
104. A lame sparrow healed and flying, after the precious prayers of children
106. 2 trucks SOLD! Only God!
110. A husband who loves me
112. Things aren't always what they seem
On the journey....won't you join me?